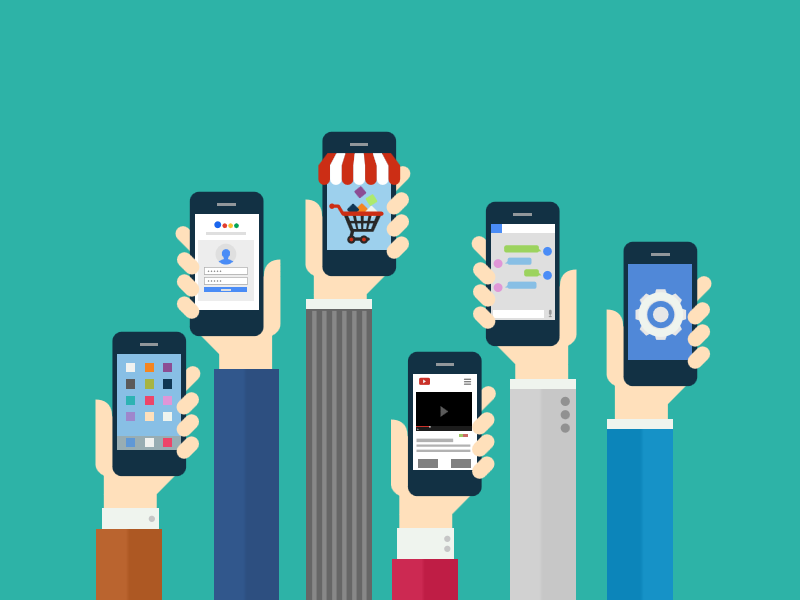 Mobile advertising is here to stay. The mobile industry just keeps on advancing and growing. As time goes on, more brands, advertisers and marketers are going to realise the benefits. We have summarised six reasons why brands and advertisers should embrace mobile advertising (if you haven't done so already)…
1. The growth of the mobile advertising market
Mobile advertising is consistently growing and shows no signs of slowing down any time soon. The global advertising market is predicted to be worth over $150 billion by 2018 and a huge $118 billion of this is expected to come from mobile alone, making mobile the dominant digital ad segment (eMarketer, 2014). This growth should not be attributed to just the western advertising market. Emerging markets such as India, China and other APAC regions have experienced exponential growth in this area, with mobile being the first screen for most people in these countries. For example, 59% of the Indian population browse the internet exclusively on their mobile. In fact, India is the fastest growing APAC region, with an 82% year-on-year growth (IDC, 2014)
2. Reach
Mobile advertising is simply a lot more personal than any other advertising format out there. The majority of people own a mobile phone with most people carrying their devices with them 24/7. By 2017, there is expected to be over 5 billion smartphone users globally, a massive 70% of the world's population! (eMarketer, 2014) What's more, people of all ages, nationalities, cultures and gender use a mobile device, whether it be a top-of-the-range iPhone or a low-cost smartphone.
Brands have the ability to reach whoever they want, wherever they want, whenever they want with mobile. People have the ability to do whatever they want or need on their mobile, whether it be buying a new pair of shoes, searching for a nearby restaurant, streaming video or using social media.
The range of activities that can be carried out on mobile makes the opportunities for advertising endless, making it easier for advertisers to reach people across the globe.This is particularly true for emerging markets such as India, where, as mentioned above, mobile is often people's only method of accessing the internet. Using mobile as an advertising channel in emerging markets therefore allows advertisers to reach people that other advertising channels, such as TV, cannot. 
3. Relevance
The ability to target consumers on mobile devices outshines the targeting abilities that come with traditional advertising. With a TV or newspaper advert, you are loosely targeting consumers in the hope that they will be interested in the campaign you are running. Unlike TV, radio and print, the mobile is a very personal device which allows brands and advertisers to understand the profile of the mobile user and then target ads directly at them.
Mobile targeting has advanced so much that you can now target mobile users based on their location, personal interests, recent searches and even purchases. For example, a restaurant can target mobile users who are in the local area and who have recently searched for places to eat.This allows for brands to target people who would actually be interested in the advertised product, rather than wasting valuable ad spend on impressions that may fall on deaf ears (or eyes in this case).
4. Drives to point of sale
Using mobile advertising guarantees both reach and relevance (as discussed above) but it is also important  for brands and advertisers to measure whether the targeted audience engaged with the ad campaign. By targeting consumers who are interested in the product, essentially, the consumer should be more likely to interact with the ad in some way, whether they just simply watched the ad and shared it with their friends or were re-directed through to a point of sale. By featuring click-through options on a mobile advert, this ultimately will increase the number of users that engage with the ad and also provides the brand/advertiser with an effective means of measuring who clicks on the ad.
AdSpruce offers advertisers the innovative Dynamic End Card. The high-impact call to action is displayed at the end of a video ad and drives consumers to any point of action. For example, an ad for a fashion brand could feature a an end card displaying a product they have on sale combined with a click-through to buy the product, redirecting the user to the website. AdSpruce offers a range of different calls to actions, such as click for app downloads, social media pages, landing page and buy and watch now clicks.
3. All the big shots are doing it
It seems like the biggest brands have realised the benefits of mobile advertising with more advertisers and brands announcing regularly that they are slashing their traditional advertising budgets and increasing their spend on digital advertising. Many big names have made this move, such as one of the world's leading advertisers, Proctor and Gamble, who lowered their advertising budget as a whole and shifted a lot of their spend on digital to help keep their costs low. Many big advertisers and brands are shifting to digital for the same reason, using the reasoning that digital advertising is more cost effective.
One of the most well-known brands in the world, Coca Cola, has made no secret that mobile is a great way to reach consumers. They have a strong mobile strategy in place, with a mobile team and have announced their vision, 'Mobile in one hand, Coke in the other'. Kraft has used mobile advertising to leverage the brand awareness of brands in the US who were slightly outdated, such as Oscar Mayor, by creating an app and campaigns for the mobile. The campaign was a success and revived the brand.
6. Social
It's fair to say that most people who own a smartphone access at least one social media account from their device. Mobile plus social is an extremely effective way of raising awareness of a brand and a campaign. Social media sites give users the options to share or re-tweet posts they see, meaning the potential to reach a large user base is huge. Social media sharing therefore allows for your campaign to reach people who the campaign may not have otherwise reached.
It has also been proven that people are more likely to follow through with a purchase through word of mouth. If a friend shares a video, then their friends are more likely to view what has been shared. The AdSpruce Dynamic End Card enhances the social element of mobile advertising, allowing advertisers to place their social media click-throughs at the end of their mobile ads, increasing the opportunities for people to share content on social media pages.
If the above reasons aren't good enough to jump on the mobile advertising bandwagon, we don't know what is. Sooner or later, digital advertising will be the predominant means of advertising, with mobile not far behind. Can you think of any more reasons why advertisers and brands should embrace this trend? Let us know via our Facebook, Twitter or Google+ pages.
If you enjoyed this blog, check out What to Expect from Mobile in 2015 or Why Mobile is the Best way to Reach Millennials. For more information about what AdSpruce can do for you check out our website or email sales@adspruce.com.