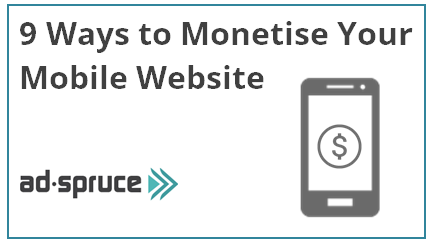 You've developed a successful mobile website which receives a significant amount of traffic on a daily basis and you've focused your proposition so that you own your niche on the world wide web. But where do you go from here? How can you monetise your mobile web traffic without spoiling the user experience?
One thing is certain: the internet is constantly growing and changing. Today alone, over 150,000 new domains will be registered; the Internet is expanding at an exponential rate. With such rapid changes and developments, as a publisher and a business owner, you need to ensure that you are developing your website to make it as "future-proof" as possible. If you're not currently monetising your website, now is the time to do so. It's fast, simple and you can choose from a variety of ad units to best fit the needs of your website. If you're smiling smugly to yourself thinking "Why? Yes, of course I'm monetising it" – then how about your mobile website? Frequently, mobile websites are bypassed when discussing website monetisation but mobile web usage is growing faster than ever (even faster than desktop internet when it was first introduced). There are several ways in which you can generate revenue from your website and the content you publish on it. In this blog we'll be taking a look at 9 different ways you can monetise your mobile website and with a whole host of different ad formats available, you can choose which works best for your website and which will be most favourable with your audience.
1. The Video Banner

An updated, rich media version of the static display banner, Video Banner integrates seamlessly into your website and appears either at the top or bottom of your page and allows publishers to generate premium video revenue from existing banner inventory. The Video Banner plays a 10+ second preview of a relevant video ad, giving your audience the option to tap the banner to play the video advert in full. It's a high-impact, user-initiated ad format that doesn't dominate your web page or affect the user experience. The Video Banner is a solution provided by AdSpruce. Find out more about it here.
2. The Video Wall
The VideoWall by AdSpruce is an ideal solution for publishers with websites that host various forms of media and content. If, for example, you publish articles, picture galleries, downloads, video, games (and much more) the VideoWall can monetise these links by dynamically inserting a video ad before allowing the user to access their chosen content. It's a win-win situation: Users get to access high-quality content for free and publishers can create a new revenue stream from existing content. The VideoWall is the solution for publishers wanting to make money from the content they publish, without a direct cost to the user.
If you are a publisher of video content, then pre-roll and in-stream are popular ad formats for this media type. When consumers watch videos online there is almost an expectation that there will be a video advertisement – particularly if the video content is premium yet available to watch for free. Pre-roll advertising occurs when the user selects a video and clicks play, the pre-roll ad will appear prior to the content. Pre-roll advertising is suitable for any video length. In-stream is more suited to long-form content – usually 15 minutes or more. In-stream ads are inserted into the content just like TV ads.
4. Interactive Banner
Interactive banners are popular with both advertisers and audiences. The interactive element makes it interesting to users who are encouraged to interact with it by playing a game. Once complete the ad format will give the user an opportunity to learn more by watching a video or be taken to a landing page. 
5. IAB Rising Stars Pull Header/Footer
The Pull ad unit is non-intrusive and user-initiated. It functions by appearing as a header or footer on a web page with the word "Pull" in the centre. When the user swipes or "pulls" the header/footer then the ad opens, appearing as a banner with social sharing features. This ad unit is ideal if you want to limit the advertising to a select number of pages on your website. If you're looking for advertising volume, then this may not be the best option as it is user-initiated and can only appear once per page.
6. IAB Rising Stars Film Strip
The film strip is another interactive ad format. It can be customised with different creative elements that enable the user to really engage with the unit and alter the product to suit their individual preferences such as changing the colour for example. This ad unit requires particular attention to detail and you'll also need the ability to turn around a creative in a short lead time if you want to deliver as many campaigns as possible in order to receive any sizeable revenue. However, the unit is new and exciting, it would interest users and aesthetically it looks incredible which would overcome design concerns for any publishers who don't want to impair the creativity of their websites appearance.
7. Affiliate Marketing
When you become an affiliate marketer, you become responsible for the performance of the sales generated for a product through your website. Each time a consumer from your website purchases the product that you are advertising, you receive a percentage of the sale. This can be a very lucrative business model if the visitors to your website are engaged with the content on your pages and are likely to click through on the ad or even if you have fewer website visitors but the products you are advertising retail at a considerably high price. However, out of all the ways to monetise your website affiliate marketing can be considered the most time-consuming and involved process.
8. Retargeting
What's great about being a retargeting publisher is that each of the adverts that your user sees is unique to them. Usually retargeting ads appear when a user visits a website that uses cookies to store their information about products that they looked at or added to a wish list or shopping basket which is then abandoned before completion. Retargeting ads will display adverts from a website which the user recently visited (usually within the last month), thus increasing the chances that those adverts are relevant and interesting to that particular user.
9.  Native Advertising
Native advertising is a relatively new and exciting prospect. It's advertising which looks like the normal content produced by a website, allowing it to become part of the user experience. AdSpruce works with premier TV and video publishers and with them we create branded TV channels which look and work just like regular online TV channels. They're designed to "infotain" (inform and entertain) users for a more engaging and memorable brand experience that fits in with the look and feel of the website it's published on. Native advertising doesn't have to just be in the form of videos, however, it can also take on the shape of blog posts, articles, listicles, photo libraries and much more.

Conclusion
As you can see there are a variety of different ways you can monetise your website and with those ways come a whole host of ad units that you can choose from to determine which will be a best fit for your website and audience. If you're still not sure about how you should monetise your website, visit the publisher section of our website and find out more about how our solutions can work for you. What we really want you to take away from this blog post is the importance of ensuring your website is optimised for mobile and that you are/or intend to monetise it – to deliver a potentially prosperous income for your business whilst enhancing the user experience through hyper-targeted advertising.