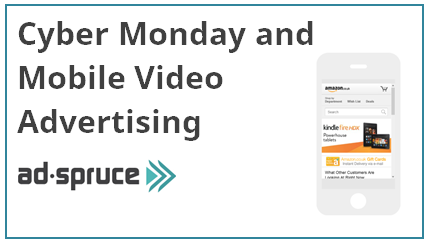 Since 2005, Cyber Monday has quickly grown into the most lucrative day of the year for online retailers as millions of people around the world flock to online stores and take advantage of the pre-holiday sales. As this trend in online shopping continues to grow – how can brands increase their sales opportunities by optimising for the mobile screen?
Read on to find out why mobile video should be an essential part of every brand's Holiday season advertising campaign to increase Cyber Monday sales.
Occurring annually on the Monday after Thanksgiving, Cyber Monday is an e-commerce event in which marketers capitalise on the growing popularity of online shopping, and while the term "Cyber Monday" is still relatively new, there is a large amount of evidence that shows the growing importance of Cyber Monday in relation to revenue and a successful holiday sales period.
Many brands choose to extend their in-store discounts to their online stores following the much-favoured shopping day – Black Friday. This might go some way into explaining the growth behind Cyber Monday. After all, who can resist special offers and discounts when they have a so many people to buy gifts for? Now, in an attempt to capitalise on the higher margins from online sales, brands promote their Cyber Monday offers earlier than ever, one such brand being Walmart who have already released a line-up of online deals for tech-savvy, special-offer shoppers.
However, the increase of online shoppers cannot alone be attributed to the availability of special offers online. Cyber Monday is also one of the most applicable times of the year for Holiday shopping. Many people have just received their monthly salary, the idea that they need to do their gift shopping is starting to resonate and there is just enough time for a gift to be bought online and delivered in time for the holiday period. Online shopping also enables consumers to make better, faster and more informed decisions about their purchases using price comparison features and product reviews left by other online shopping customers before committing to a purchase.
How can M-commerce increase sales?
With mobile phones becoming faster, cheaper and more intelligent, many users are turning away from their laptop to make purchases on their mobile phone. In fact, mobile and e-commerce have become so closely ingrained that many are now calling it m-commerce.
A recent study by eMarketer forecast that mobile will be responsible for 16% of all online holiday season purchases in 2013. eMarketer went as far as to predict that in total, retail m-commerce sales will reach $41.68 billion this year and by 2017 retail sales made on mobile devices will climb to well over $100 billion.
This means that brands now have a challenge: How can you maximise sales revenue from mobile consumers? To which the answer is: Mobile Video Advertising.
Reach consumers where they are.
Hyper-targeted and high-impact video advertising has proved to be an engaging and effective advertising medium that is rapidly growing. This ad format combined with delivery on a mobile platform enables brands to reach their audiences in a more personable and entertaining way. As the consumption of mobile video on the internet increases, there is an accelerated opportunity for brands and retailers to showcase their products and captivate audiences with their seasonal offers. What's exciting about video adverts right now is that not only do they inform audiences about a new product on the market, they are also branded pieces of content that stir emotions and resonate with consumers, making them more memorable and personal as they appear on the mobile screen – the closest screen to any consumer.
Q: How can you maximise sales revenue from mobile consumers? A: Mobile Video Advertising.
There's a variety of video ad formats that brands can consider for their campaigns, from pre-rolls delivered prior to short, snackable VOD content to in-stream adverts which are often associated with premium, long-form video content. Brands can also find a range of unique video ad units such as Video Banners and the AdSpruce VideoWall. Each video campaign can be click-enabled to drive traffic to product pages and get consumers one step closer to completing a purchase. Videos can also be enabled with HTML5 interactive elements such as social sharing.
It's not only advertising that retailers can use video for. Product videos are shown to increase site dwell-time and also increase basket size. Product videos can also be the difference between a consumer deciding whether to purchase a product or not because without one they may not clearly understand the look and feel of the product and perhaps decide not to "risk it" by going ahead and purchasing.
Conclusion
In the ever-going battle to make better use of our time, consumers are becoming more savvy about how they shop. The rise of m-commerce has led to a significant sized market of consumers who now make their purchases on-the-go via mobile devices, thus saving valuable time by buying items during lunch hours, whilst waiting for appointments, meetings or public transport, or even whilst watching television at home. Which is why brands need to ensure they are winning audiences on this screen so that they can convert to sales.
With a variety of different ad spots that brands can choose from, it's important that there is a strategy in place in order to make best use of available budgets and ensure that views and clicks are converting to sales. By carrying out A/B tests brands can determine which video ad unit will work most effectively for their brand.
But enough of what we have to say. What do you think? Would you ever do your holiday shopping from a mobile device? Let us know by voting on the poll below or by leaving us a comment in the box below.