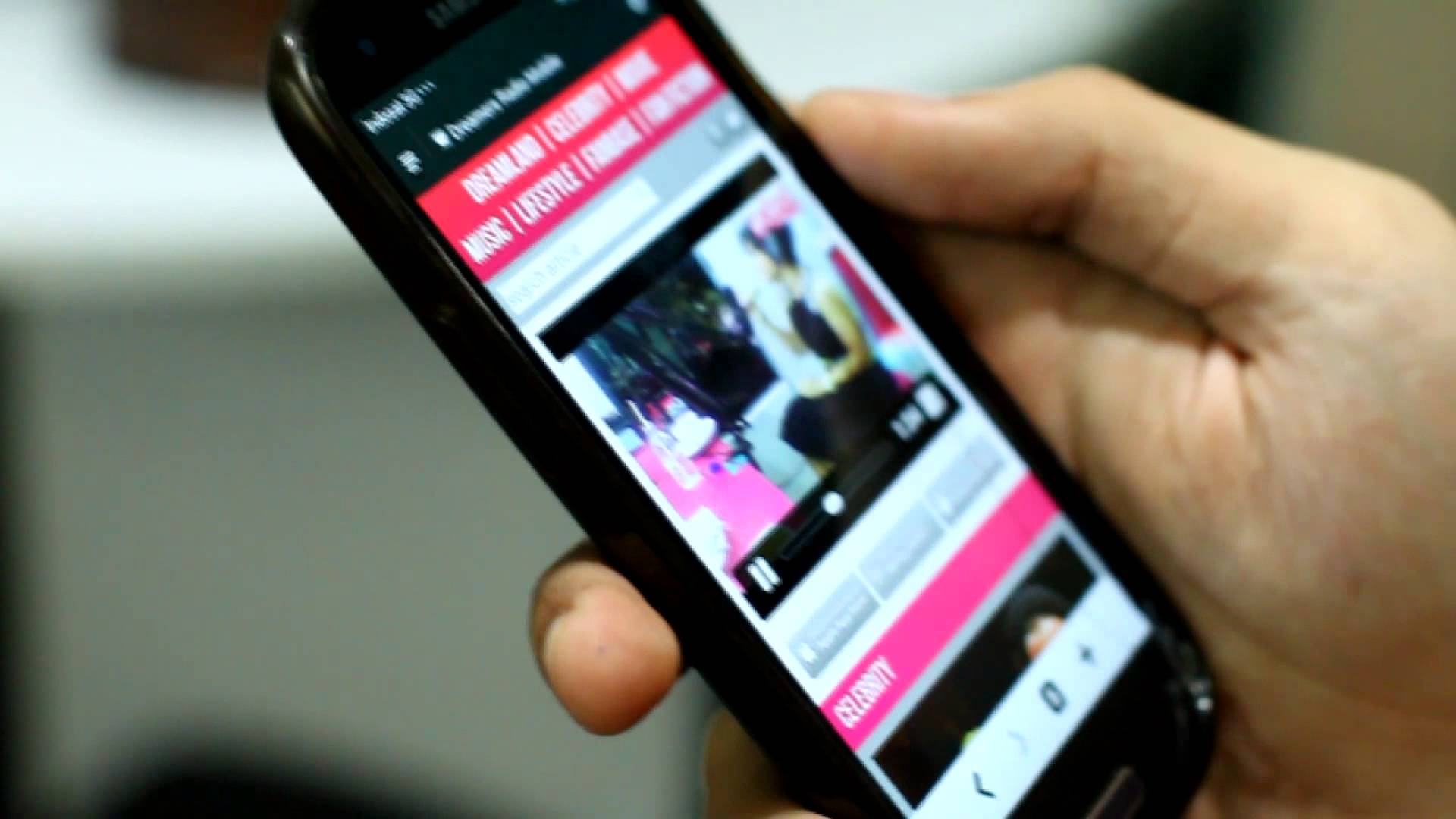 'Video will dominate this year' – a statement that we have heard every year for the past five years or so. So do we actually believe that 2016 is going to be the year that video has its shining moment?
Mark Zuckerberg, Facebook CEO and technology influencer, seems to think so. At the 2016 Mobile World Congress in Barcelona, mobile video was one of the most talked about subjects. Zuckerberg made a bold statement by declaring that video is at its 'turning point'.
Video, mobile video in particular, has come a long way since we first started viewing it on our screens. Due to advanced technology, improved smartphones and faster network speeds, video has become a lot more accessible and, in turn, more enjoyable. According to Cisco, video is predicted to account for 80% of global internet traffic by 2019. We are quickly approaching a video dominated world, with mobile being the main driving force…
Mobile is currently the primary method of watching video content, demanding more attention from the user than any other channel. Research from Google found that watching video on mobile is a lot less distracting than watching TV, which was the sole activity for just 28% of millennials. This means that just over a quarter of millennials give their full undivided, attention to the TV screen, whilst most would simultaneously carry out other tasks such as eating, cooking, texting or socialising. This is compared to over half (53%) of millennials who make watching video on mobile their sole activity. Mobile video is definitely commanding our attention in a way that other formats, especially TV, does not.
This leads nicely on to engagement. Technology has made it a lot more affordable for marketers to create video content, making video a viable option for brands anywhere. Due to the rapid increase of video advertising spend, standards have improved, leading to more powerful and engaging advertising. A report from Millennial Media in April 2015 found that video ads are five times more engaging than standard banner ads. Not only are video ads more engaging but they also generate three times higher CTR compared to banner formats. BI Intelligence also reports that video ads have an average CTR of 1.84%, a considerably higher than other digital formats.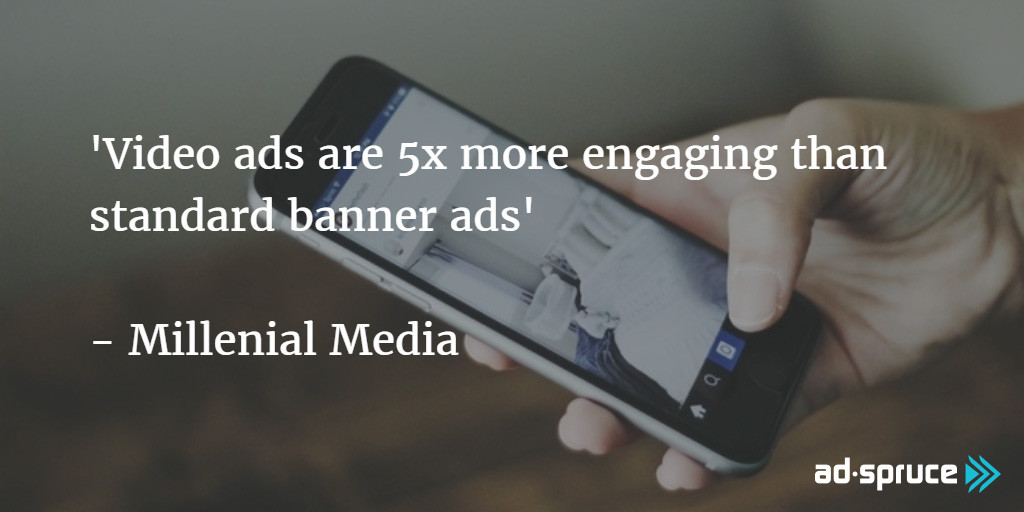 Video sharing apps such as Snapchat have massively grown over the past year. Snapchat is estimated to be worth a massive $16 billion; for a start-up this is hugely impressive and shows just how powerful video is. Between June and November of 2015, Snapchat's traffic tripled to exceed more than 6 billion per day (Financial Times, 2015), with the majority of these videos viewed through the Snapchat 'Story'. Your 'story' allows you to post video clips to your personal account for your followers to view for up to a 24-hour period. Brands have realised the potential in using the 'story' as a form of advertising, harnessing both video and social media to create brand awareness to a large global audience.
Facebook is also seeing video as a very lucrative format, generating a huge 8 billion video views per day with the number of video posts per person increasing by 75% globally! It certainly seems like 2016 will be an exciting year for social video, especially for the likes of Facebook and Snapchat. Buzzfeed is another social site whose business model relies heavily on video. At the Mobile World Congress 2016, CEO of Buzzfeed John Perriti stated that he was 'seeing video take off in a way he never expected.' He also placed the growth of Buzzfeed on mobile video.
Mobile video is not just growing in western countries. South East Asian countries have one of the highest smartphone penetration rates in the world and as a result they are consuming a huge amount of video content. Mobile video makes up 43% of all video views in APAC regions, falling slightly behind the world average of 46% (Ooyala, 2015). However, countries such as Singapore, Australia, Japan, Indonesia and South Korea are above the world average.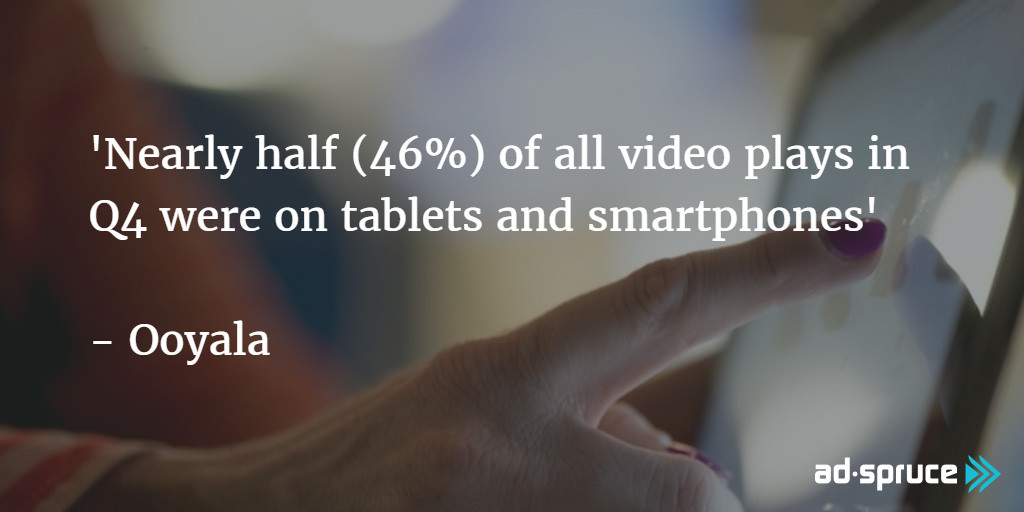 A study from Millward Brown found a number of countries in SEA including Thailand, Phillipines and Vietnam spent on average four hours or more per day watching video content, beating the global average of three hours per day. AMAP countries (Asia, Middle East and Africa) are also more receptive to mobile video advertising compared to the rest of the world (26% in AMAP compared to 19-20% ROW). With smartphone and tablet penetration continuing to grow, it will be interesting to see how video consumption trends change throughout 2016.
Video is undoubtedly a rising star in the online and mobile world. 2016 will see video continue to grow, especially in the social realm, in advertising and in terms of creativity. Video on mobile is simple, effective, engaging, current and convenient. Mark Zuckerberg could be right in that 2016 will be the 'turning point' for video… but it will still be just the beginning for an extremely exciting trend.
If you want to find out more about AdSpruce, head over to the website. If you have any questions, contact us through our Facebook, Twitter or Google+.