Find out what makes advertising "native" and how native advertising is helping brands to engage with audiences, drive brand loyalty and increase sales.
What is native advertising?
Native advertising is simplest described as "advertising which looks like regular content." From the earliest newspaper "advertorials" in the 1940s to the "sponsored results" in a Google search, native advertising is a long standing and widely used ad format that attempts to subtly introduce advertising into the subconscious of the general population. For a long time, desktop and mobile advertising has been dominated by display advertising, however, this format appears to be waning, with web users shunning or even blocking "intrusive" display ads while website owners look to create an aesthetically pleasing website, aiming to avoid banners altogether. This has led to a resurgence in native advertising.
If you regularly visit online publications such as the Huffington Post, you'll be familiar with their website layout. However, have you noticed the "Sponsored Content"? This sponsored content is promoted and paid for by brands who want to reach users in an engaging and non-intrusive manner. This style of advertising has recently been adopted by the wildly popular website "BuzzFeed" – where writers create brand-focused content in a manner that is relevant and interesting to the BuzzFeed audience.
The idea is a simple one – create content that users enjoy while subtly creating brand recognition and selling products.
How does native video advertising relate to video?
As mentioned previously, native advertising can take on many forms – one of them is video. There are numerous publisher websites available who publish video content on a daily basis and who offer promoted or sponsored videos. Native video advertising can be used as a standalone campaign or it can be used as part of a video seeding marketing strategy. With the rise in demand for video and the rate at which it is being consumed, it makes sense that native advertising transcends to this media type too – in order to provide reach for brands in an engaging way. In February this year, Cisco reported that by 2017 video will make up two thirds of global data traffic; so it's becoming increasingly important that brands are creating compelling video content as part of a more intricate video marketing strategy.
What can native video advertising do for brands?
Native video advertising has several strong points, which have led to its popularity in the advertising industry:
First and foremost – it enables brands to reach audiences through compelling content
It's not a hard-sell, it's more about winning customers by showing them your brand personality through the content you deliver
Native advertising takes on many different forms, making it versatile and adaptable so there is a range of choice for marketers to determine which would be best for their brand
The majority of native advertising formats tend to be based around content which can give relevance and meaning to brands and their ethos
The creation of more content that is associated with a brand can enhance its search engine optimisation
Native advertising and sponsored content are closely linked. Brands should aim to sponsor a mixture of trending and evergreen content so the brand receives earned media and lift in relation to both hot topics and more long-term and original subjects
Native advertising example: AdSpruce's native video advertising solution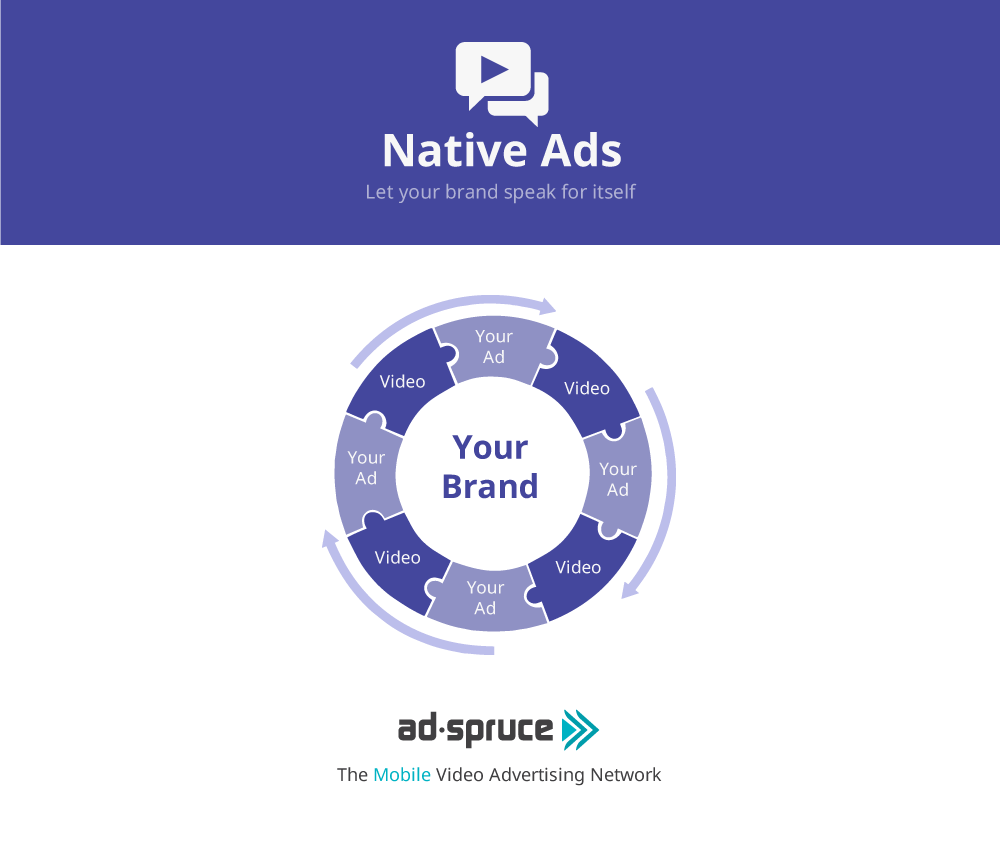 The AdSpruce solution is enabled for optimum brand performance. To briefly outline how it operates, brands send us their existing video content (such as behind the scenes, interviews etc) along with their current video ad creatives. At AdSpruce, we then encode all the videos to ensure they are optimised for viewing on any screen size and internet bandwidth. A linear video stream is created by "stitching" the videos together before, lastly, the video ad campaigns provided are inserted at set points into the stream, allowing them to blend seamlessly into your content.
Essentially the video stream we create for a brand becomes its own online TV channel; we then distribute it to our publishers (several online TV networks) who integrate the channel onto their platform so it can be viewed alongside premium TV channels visited by millions of viewers everyday – vastly increasing brand reach.
The native part of the AdSpruce solution occurs in two formats. Firstly your brand becomes an online TV channel – just like any other in the way it looks and the way it plays. Secondly, your latest video ads are inserted into your regular video content – so there is a clear association with your adverts and the typical content available on your channel. Viewers have chosen to watch your channel to view your video content and your latest video ads are a part of that user experience.
Native advertising in numbers
Over $2 billion was spent on native advertising this year – that figure is predicted to double by 2017.
Facebook sponsored stories (a type of native advertising) have a 46% higher CTR than other Facebook ad formats.
Brands like Victoria's Secret which have an online TV channel with Yamgo – receive just under 30,000 views per month with an average view time of 2 minutes.
WWF – also appearing on Yamgo, engage an extra 90,000 viewers per month on the platform.
50% of those asked in this study considered native video ads to be more effective than conventional ads at hitting key performance indicators (KPIs).
Conclusion
To conclude on the subject of native advertising and native video advertising, it's important to mention that there is going to be some clear growth for this ad format. It's likely that more publishers will integrate this ad unit into their platforms because it is better suited for the user experience and can offer more relevancy to their followers, which in turn means more qualified and engaged consumers for brands. Ultimately, video has become one of the most popular and effective advertising units available today, so native video ads are a natural progression. To find out more about native video advertising you can visit the AdSpruce website.