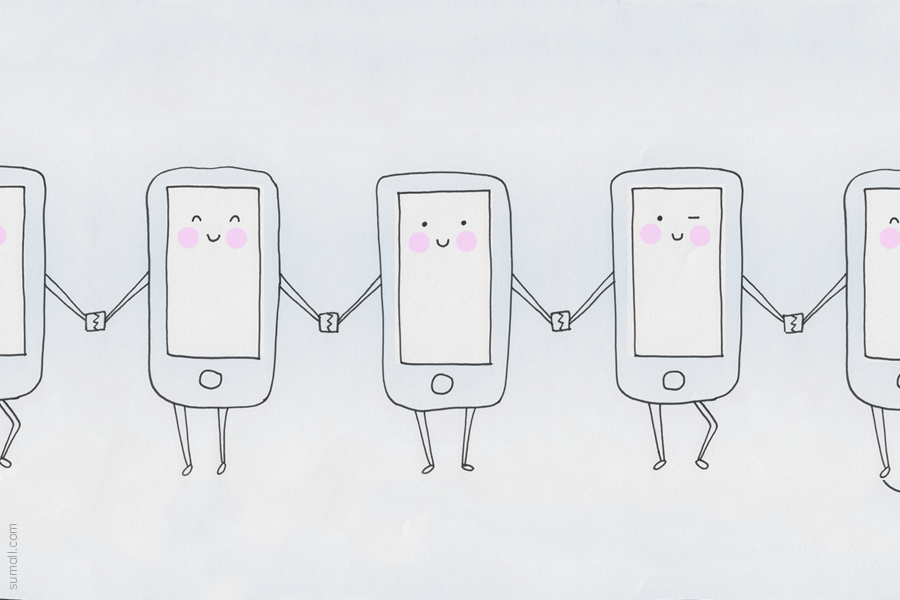 The use of the mobile web is continually growing so we can surely expect some new mobile trends the coming year. In 2013, mobile internet usage was higher than internet usage via a desktop computer, and although mobile phone sales were lower than desktop sales (Business Insider, 2014) it has been predicted that for the first time ever mobile phone sales will exceed desktop computer sales in 2014.
As mobile web consumption rises mobile-friendly websites are becoming a necessity, with some users choosing to access the internet exclusively through their mobile phones. The mobile phone has become so integrated into people's daily lives that in 2012 a research study showed that 66% of mobile phone owners suffer from Nomophobia – the fear of not being connected to a mobile device. This statistic is predicted to increase to 74% by 2014.
The past few years have shown tremendous advances in mobile technology and 2014 is set to be no different. So, with the mobile phone becoming central to everyday life, what are the upcoming changes to mobile in 2014 and how will it impact our lives?
1. Rise of the Smartphone
Global smartphone usage is expected to increase to 1.7 billion in 2014 (eMarketer, 2014). In 2013, smartphone usage was calculated at just over half of all mobile phone usage (55%), meaning feature phones still have a very large market share. In 2014, the percentage of smartphone ownership is expected to increase to 64%, indicating that more and more people will have more streamlined access to the mobile web. Gartner has also predicted that smartphone sales will dominate mobile sales in 2014 (Gartner, February 2014). At the Mobile World Congress in Barcelona in March 2014, Nokia has revealed three super cheap smartphones which will use Google Android's operating system. Mozilla have also shown off a prototype for a $25 smartphone, aimed at the developing world. Their aim is to appeal to people who would normally buy feature phones, which are still extremely popular in the developing world such as in Africa and Asia. Both these announcements indicate that smartphones are getting increasingly more affordable and therefore a rise in the number of sales is inevitable.
Prediction: 2014 will see more users adopt smartphones than ever before while telecom providers expand their networks, infrastructure and connectivity speeds.
2. Emerging mobile regions
As has been mentioned above, smartphone usage is on the increase and this is particularly relevant to the developing world. There can be said to be three emerging regions in relation to the mobile market for 2014. These are Asia-Pacific, the Middle East and Africa. It has been predicted that Asia Pacific will account for over half of the growth in smartphone numbers during 2013-2018 due to the enormous market in India and China (eMarketer). Furthermore, in the Middle East and Africa, more than nine in ten web users are surfing the web via the mobile phone, of which 94% will go online via their mobile phones at least once a month (eMarketer). The rate of mobile phone penetration in the Middle East is constantly rising and is expected to reach 93.9% this year.
Prediction: 2014 will see "mobile-friendly" turn from a consideration into a necessity as more and more users ditch the desktop in favour of mobile phones and tablets.
3. Wearable Devices
Many have cited 2014 as the 'Year of the Wearable'. With an increasing percentage of the worldwide population now using smartphones, this has given rise for manufacturers to take more progressive steps towards more advanced mobile technology such as wearable devices. In 2014, it can be expected that a significant portion of the smartphone population will own a wearable device (Business Review USA, 2014). So, what exactly are these 'wearable devices'? Basically, a wearable device is a product which works in conjunction with your smartphone, which then is worn on your body. For example, the first wave of wearable devices focused on the wrist, however, there has been the emergence of wearables for your waistband, sensors in your pocket and headwear such as glasses, for example, Google Glass. The most popular areas of wearable device can be said to be fitness, with heart rate monitors, step counters and exercise trackers being used to keep tabs on a person's fitness.
Prediction: As phone manufacturers and mobile web developers turn their focus to wearable technology 2014 will see a rise in interest for the fitness industry, keeping users away from their desktop computers.
4. Rise of the Video
It has been predicted that mobile video views on smartphones and tablets worldwide will make up a quarter of all online views in 2014, and this is expected to double by 2019. This is not surprising really, due to the emergence of more affordable smartphones and enhanced viewing experiences due to improving technologies. The popularity of mobile video can be highlighted through YouTube stating that they serve more than 400 million views per day via mobile – that's more than 40% of their total online traffic! (Moveable Online, 2014). Therefore mobile video is a very lucrative market and a very effective method to reach consumers. Using mobile video ensures more engagement from users and there are a range of ways in which mobile video can be used.  For example, mobile video platforms are stepping it up by offering new, innovative technology. For example, AdSpruce offers many video solutions such as Video Banner, video Pre-Roll, TubeViral and Native Ads.
Prediction: 2014 will see mainstream television providers turn their attention towards mobile content streaming as users increasingly adopt on-the-go media and video on demand.
So in 2014 the mobile trends we can expect to see are new technology becoming wearable and more personal, lower barriers to entry for consumers purchasing smartphones and the continuing rise of mobile video consumption, particularly in emerging countries. Is 2014 the year that mobile reaches 'technological domination'? With mobile out-selling desktops and mobile web consumption on the rise it certainly looks that way.