Digital video is experiencing growth in multiple regions around the world, but does that include India?
In short the answer is yes, but the broad picture is very interesting indeed as shown in a recent study by comScore Video Metrix, which revealed that the audience for digital video consumption has more than doubled in the past two years alone.
According to the comScore report the online video audience in India has grown by 74% in the past two years, with over 54 million viewers consuming digital video. Perhaps most interesting is the fact that as well as watching a higher quantity of videos (an increase of 18%) viewers are now watching for a longer period of time (an increase of 28%).
The comScore study looked at data between March 2011 and March 2013. During this time the number of unique visitors to video content websites has has risen by 69%. The number of video views has also grown at an exponential rate, doubling to just over 3.70 billion. Looking at the table below we can see that the amount of time spent viewing videos online has increased by just under 94 minutes which is an unprecedented rise, one which is very positive increase for video content creators.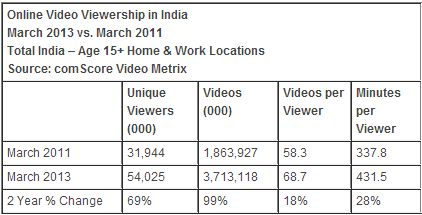 (Image source, IndiaSocial.In)
The study by comScore Video Metrix went on to state that websites such as YouTube, Facebook and Yahoo were some of the most visited websites utilised for viewing videos online. In total these three sites received 58.2 million unique viewers.
The comScore study is very much inline with our own data. At Ad Spruce we provide many millions of video adverts  in India every month and have done so for many years. As Ad Spruce has grown we have found our ever increasing audience in India ready and willing; hungry to consume video content through mobile devices. This new data from comScore only further highlights the important of this burgeoning market.
Conclusion
The growth of online video in India presents a wealth of online advertising opportunities for companies who want to invest in rich media video ad campaigns. The metrics of the comScore study show a rapid increase in the consumption of online video which reflects the demand for this type of media within the region. These findings, when compared to a recent study by Google (Our Mobile Planet) which states that 40% of the consumers surveyed in India, would rather give up their television than their smartphone, suggests that there is a strong future for mobile video ad targeting in India. We will continue to see rapid growth in online video views in India as smartphones become more affordable and improved internet connectivity is rolled out across the country.
"The rapid online video growth we're witnessing in India represents a significant opportunity for both marketers and media companies in India. As the Indian online video market begins to realise the value of its existing inventory while continuing its growth in viewers and consumption time, there will be substantial upside for the key players in this market." – Kedar Gavane, Senior Director, comScore India