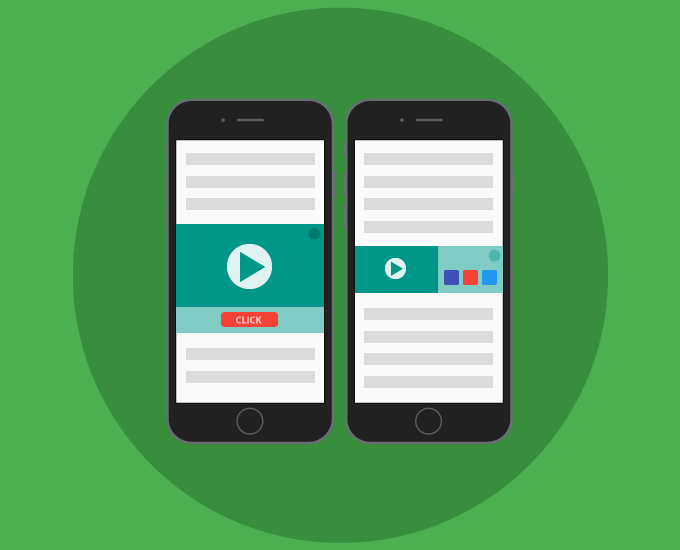 Outstream advertising has gained much media attention as of late. In light of the much talked-about ad blocking obstacle to mobile advertising, it is understandable why an increasing amount of advertisers and publishers are searching for more effective mobile advertising formats.
Welcome outstream mobile video advertising – the ad format which aims to create a more seamless experience for users and publishers whilst at the same time providing genuine viewability for advertisers. Outstream is already proving to be more popular than the more common mobile advertising formats. 77% of agencies surveyed by Morgan Stanley recently said that outstream advertising will be more important to their clients' advertising portfolios compared to instream advertising and banner ads at just 59% and 60% respectively.
Unlike instream advertising, such as pre-roll, where the ad is only playable within a video player, outstream allows for a video advert to be placed within the content of a web-page, e.g. in between paragraphs of text on text-heavy websites. Outstream ads aim to promote increased viewabilty, only playing when the ad is between 50% to 100% in view, depending on the ad network. The choice is up to user whether or not they continue to watch the ad, which ultimately leads to valuable eyeballs if the advert is watched. If the user does not engage with the ad and continues scrolling, the ad will stop playing and slide out of view.
AdSpruce's interactive outstream ad solution calls for maximised viewabilty, with the ad playing when it is 70% in view. The native-like quality of the ad subtly calls for the user's attention whilst they are already interacting with the web page, increasing the likelihood that users will become engaged – an engaged viewer results in viewable impressions. Advertisers are therefore only paying for quality viewable impressions which, in turn, drives performance and increases brand awareness.
Unlike many other mobile advertising formats, outstream ads do not act as a barrier to access, such as a pre-roll ads where you have to watch an advert before viewing the content you set out to watch. Outstream ads are therefore not viewed so negatively by users, who ultimately like to have choice and appreciate more native-like experiences due to them delivering a more premium-feel ad experience.
Research  supports the effectiveness of outstream video advertising. The Millward Brown study found that there was a 10% lift in brand awareness with outstream in comparison to instream and click-through rates were also more in favour of outstream ads. It was also found that outstream ads are visible for 25% longer than instream ad formats.
It is fair to say that outstream video advertising plays well to the needs of advertisers, the user and publishers. It provides a seamless user experience and maximises viewable impressions, therefore guaranteeing brand lift. In the current mobile advertising climate where advertisers and publishers alike are looking for more innovative means of video advertising, outstream advertising may just solve this. The issue of ad blocking has raised many questions surrounding how ads need to be more considerate to the user. By enabling the user to control whether or not they engage and interact with the ad, without being too intrusive, is a step in the right direction for mobile advertising.
However, it is important to note that even though outstream advertising is a popular ad format in the industry at the moment, this does not take away from the effectiveness of other ad formats which all have varying benefits. AdSpruce offers a range of rich-media, interactive ad formats which can be delivered to more devices than anyone else, without compromising on quality:
To find out more about how AdSpruce can help with your mobile advertising strategies, contact our sales team on sales@adspruce.com or visit the website. Follow us on Facebook, Twitter and LinkedIn to get up-to-date industry news and updates.