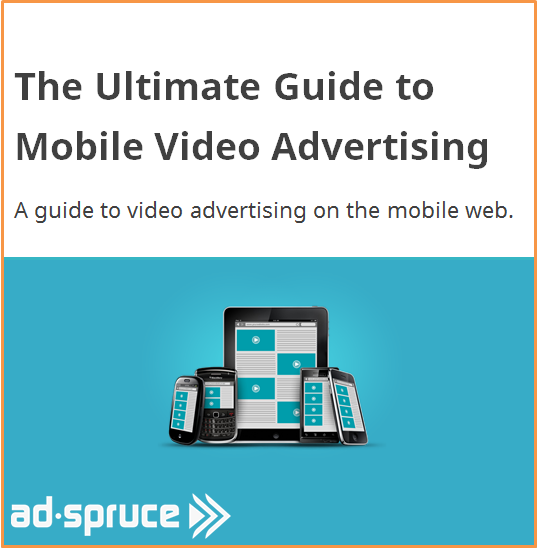 Don't know your Pre-Roll from your In-Stream? Your VAST tracking from your KPIs? We fill you in on everything you need to know in our jargon-busting guide for to the mobile video advertising industry.  So let's get started…
Frequently used advertising terms
Above the fold – The area of a web page that is viewable to a user once the page has loaded – without them having to scroll.
Ad Flight – The duration of an advertising campaign.
Agency Commission – An agency's fee for designing and placing advertisements.
ATL – Above the line. Above the line ads include those which focus on general media such as TV, radio, cinema, print and the Internet.
Advertorial – An advertorial is an advert within a print publication that has the appearance of an article.
Banner Burnout – A term used to describe a visitor who has seen a banner ad so many times that they start to notice it less – it becomes part of the webpage background and so they are less likely to click it.
Brand Lift – The increase of positive recognition and general awareness of a brand in the minds of the target audience.
BTL – Below the line. Below the line advertising focuses on contacting targeted lists directly by way of direct postal or email.
Blind Link – A blink link is a hyperlink which does not clearly state where it leads to. In some cases this is used as a way to generate click-throughs in order to reach campaign targets – however, it is heavily frowned upon.
Conversion Rate – The percentage of visitors to a website who sign up for the advertising or offers promoted there.
Cookies – Cookies are small strings of text stored on the device you use to access the internet. A web server sends you a cookie and your web client (browser) stores it. When you visit that website or web page again in future the web server calls for the stored text. Advertisers use cookies for retargeting campaigns and to cap the frequency that a person might see any one particular advertisement online. Amazon demonstrates one way e-commerce sites can use cookies.
CPC – Cost per click. Another payment structure for which brands and advertisers only pay when their advertisement is clicked. The cost of CPC over CPM is normally higher per user but with CPC the clicks are more qualified.
CPM – Cost per thousand or cost per mille. Ad campaigns can be bought and measured by the number of impressions (or in the case of video – plays) that the advert has had. Prior to starting a campaign advertisers and publishers will agree the number of impressions to deliver and price them based on an agreed CPM rate.
CPV – As video has become a more popular ad unit, ad networks will now charge a Cost Per View. The cost per view is normally calculated when a user reaches the 2nd or 3rd quartile of a video ad which is enabled with VAST tracking.
Earned Media – Earned media can also be described as free media. It refers to free publicity that a brand has gained through promotional campaigns rather than advertising. Earned media can relate to coverage on radio, TV, magazines, newspapers or blogs. Earned media can only be gained organically and it cannot be bought.
Frequency Capping – Frequency capping describes the process of setting up a maximum limit of the number of times a user sees a particular ad campaign in either a day, week, month or lifetime of the campaign. Frequency capping is one of the outcomes of advertisers being able to use cookies to track users.
KPI – Key Performance Indicator. This is different for every brand and every campaign. A key performance indicator could be the percentage of traffic that an ad campaign drove to a web page, the increase in product sales or the number of people talking about that brand on social networks such as Facebook.
MI – Monthly impressions. This is sometimes used to determine if a website can fulfill a campaign target of x amount of impressions.
Monetisation – Monetisation refers to how a service or resource generates revenue. Many online websites monetise by displaying CPC or CPM adverts from brands.
Paid Media – Paid media is the opposite to earned media. Advertisers pay for advertorials, infomercials and other coverage of their brand on media outlets such as newspapers, television and magazines.
Programmatic Buying – The process of booking, flying and optimizing advertising campaigns via software interfaces and computer algorithms. Programmatic Buying allows advertisers to automatically monitor and analyse several data points and information sources and adjust their ad campaign settings in order to improve ad effectiveness.
ROC – Run of category. An ad campaign can appear anywhere within a certain defined niche or category on a particular website or several of them. For example, if Nike wanted to run a football-related campaign they could target it to Sports categories or if available, categories about football.
ROI – Return on investment. A means of analysing the effectiveness of a campaign. Did the total sales generated by a campaign exceed the investment and costs made? And by what margin?
RON – Run of network. An ad campaign can appear on any page or website included in the publisher inventory of an ad network.
ROS – Run of site. An ad campaign that simultaneously uses all of the inventory/ad units available on a particular website.
Different mobile video advertising formats
Pre-roll – Pre-roll appears when a user clicks play on a desired piece of video content. The pre-roll advert will show before the content starts to play. Pre-roll ads can be found on both short, snackable pieces of content as well as long-form content which is normally 15 minutes or longer. Pre-roll is normally enabled with click-through interaction giving the user the ability to find out more about a product or go straight to purchase. Pre-roll is typically enabled with VAST tracking which enables advertisers and agencies to track the play events of an ad campaign including the number of click-throughs and the number of views which reached the first, second, third or fourth quartile. Having this data enables brands to have consistent metrics across different ad networks and also make more informed decisions about their brand.
In-stream – In-stream ads are similar to traditional television advertising. They are found as "breaks" in long-form content, interrupting the content to show the advert before resuming when the ad finishes playing.
Video Banners – Video banners can be found within the pages of publisher websites. They are a more high-impact form of advertising on mobile in comparison to standard display banners. Typically video banners are enabled with click-through interactivity, giving the option to play the banner full-screen and then on completion offering the user the ability to share the video ad to their social networks or taking them to find out more about the product or a landing page.
What exactly is VAST?
The Internet Advertising Bureau (IAB) has created an industry standard for video advertising tracking. VAST (Video Ad Serving Template) implements an ability to track pre-determined events such as impressions, plays, if quartile views are reached and click-through rates. For a comprehensive guide to VAST visit this dedicated resource on the IAB website.
Standard specifications for mobile video adverts
The IAB provides standard specifications for mobile advertising which are used by 80% of the advertising industry. The specifications cover images, expandable rich media and .gifs.
At AdSpruce we work with the following specs:
15 interesting facts about mobile and video advertising
50% of global mobile web users now use their mobile device as their primary means of accessing the internet (SuperMonitoring, 2013).
Mobile web adoption is growing 8 times faster than web adoption did in the 1990's and 2000's (SuperMonitoring, 2013).
On average we spend 1.8 hours a day on our mobile devices consuming media (SuperMonitoring, 2013).
73% of smartphones users reported having used the mobile web to shop, instead of an app (HubSpot, 2013).
There are 6.8 billion people in the world, 4 billion of them use a mobile phone (60 Second Marketer, 2013).
90% of adults have their mobile device within arms reach 24/7 (Morgan Stanley, 2007).
Mobile ads perform 4-5 times better than online ads in key metrics such as brand favourability, awareness and purchase intent (Insight Press).
30 million consumers in the US alone watched television content with their mobile devices in 2011 (Nielsen, Q2 2011).
 Consumers are 27 times more likely to click through online video ads than standard banners (MediaMind, 2012).
Native online video ads can generate 82 percent brand lift among users exposed to the ads (Nielsen, 2013).
80% of Internet users recall watching a video ad on a website they visited in the past 30 days; 46% took some action after viewing the ad (Online Publishers Association).
Online video accounts for 50% of all mobile traffic and up to 69% of traffic on certain networks (Byte Mobile).
Users are 200 times more likely to click on in-stream ads than standard banners (MediaMind, 2012).
73% of in-stream video ads play all the way to the end (MediaMind, 2012).
By 2016 video will generate over 70% of global data traffic (Cisco, 2013).
FAQs about mobile video advertising
What's the difference between the internet and mobile internet?
There is little difference between the two. When people talk about the internet or online advertising they are usually referring to advertising on websites accessed via a desktop computer. The mobile internet or mobile web relates to the access of the internet through a mobile device. Often they are categorised separately because many publishers have a separate mobile website from their desktop site which looks and functions differently for each user experience and the specifications for adverts on mobile are different to that of desktop because of screen size and capabilities of various mobile devices.
What is the average CTR for mobile video advertising?
The average click-through rate for mobile video advertising differs from different publisher websites and from ad campaign to ad campaign but MediaMind recently conducted a study in which they found that the CTR for mobile web ads was 27% higher than that of web ads.
Is mobile video advertising more effective than online video advertising?
This is an interesting question and it all depends on the goals of the individual brand. Typically there are more people who own a mobile device than a desktop computer, also consumers use their mobile devices daily – so if a brand was looking for reach and more immediate results then mobile is a particularly great platform for reaching these kind of objectives. Also as mobile websites improve and the ability to make payments from mobile devices becomes more secure and familiar, then more and more consumers will be using their mobile devices more frequently and for longer periods of time which gives brands more leverage to get their ad campaign seen by consumers.
Should television adverts be re-purposed for mobile video advertising?
Many big brands re-purpose their television ads for videos and the truth is there is no one right or wrong answer for whether this is the best tactic to take. For many brands there is the consideration of budgets. The creation of adverts can be expensive and so this is one reason why they are re-purposed. However brands, agencies and creatives should really take the time to determine how an ad transcends across different screen sizes. Very intricate videos with lots of details might look unclear and cluttered on a small mobile screen compared to an animated video perhaps which only uses a few select colours.
What targeting criteria can I use for mobile ad campaigns?
A mobile video ad campaign can be targeted by just as much (if not more) criteria than desktop internet campaigns. Criteria can include geographic location, age range, gender, mobile device, vertical, specific websites and demographics.